***Back from a little vacation to Folly Beach, South Carolina. Had a nice time, but I can't say a relaxing time. I worked from there in the mornings, and still couldn't really just leave it. I won't be leaving through the week like that again. If we go anywhere it's usually just Friday-Monday or something like that due to our businesses. I'll certainly be going back to that as long as I have as many clients as I have. BUT...I love the ocean and I'm so glad I got to spend some time there, with family.
***
"Workplace violence?"
Right, just like Ft. Hood.
Authorities are treating Thursday's beheading at an Oklahoma food distribution center as an incident of workplace violence but that is prompting raised eyebrows among some terrorism experts.
The FBI is investigating the incident in which fired employee Alton Nolen, 30, allegedly attacked Colleen Hufford, 54, stabbing her several times before severing her head. Nolen also stabbed another women at the plant. The company's COO, a reserve sheriff's deputy, thwarted the second attack, shooting Nolen, who is in stable condition.
Co-workers reportedly said Nolen tried to convert them to Islam after his own recent conversion.
Can't say the "T" word or the "M" word.
***
Eric Holder stepping down
. I'm glad to see him go, but we all know Obama will appoint someone just as bad, or worse.
***
***
A 137 ft deep pool?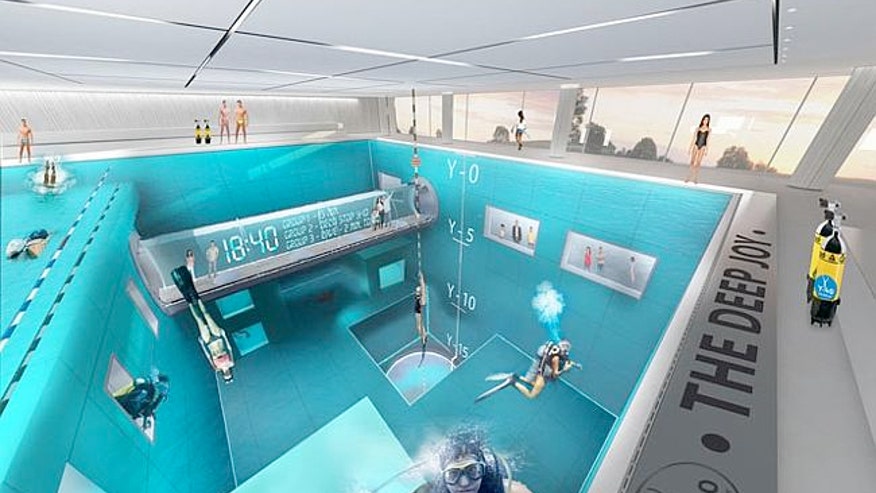 Talk about a heart-stopping plunge.
A new pool in Italy holds a world record for the deepest swimming pool ever built and has depths equivalent to a 12-story building.
Let that sink in for a moment.

Y-40 Deep Joy pool is a terrifying 137-feet deep and 59-feet wide. Housed on the grounds of Hotel Terme Millepini near Padua, Italy, it was designed by architect Emanuele Boaretto, who wanted "to build the best swimming pool in the world." In June, the Guinness World Records-certified it as the world's deepest swimming pool for scuba diving.
Wow.
***
The 2nd Amendment gets a reprieve.
A reluctant District of Columbia Council voted unanimously Tuesday to allow people to carry concealed handguns in the nation's capital for the first time in nearly 40 years.
The bill was crafted to comply with a court ruling that struck down the District's ban on carrying handguns outside the home.
Residents and visitors who want to carry a concealed handgun would have to show a specific reason that they need one, among other requirements, and District leaders are hoping that the law would withstand further court challenges. But the attorney who challenged the ban on carrying guns has said the legislation is too restrictive and does not comply with the court ruling.
They shouldn't have to "show a specific reason that they need one," but it's a step in the right direction.
***
I Shall Wear Purple
by Jenny Joseph
Warning
When I am an old woman I shall wear purple
With a red hat which doesn't go, and doesn't suit me.
And I shall spend my pension on brandy and summer gloves
And satin sandals, and say we've no money for butter.
I shall sit down on the pavement when I'm tired
And gobble up samples in shops and press alarm bells
And run my stick along the public railings
And make up for the sobriety of my youth.
I shall go out in my slippers in the rain
And pick the flowers in other people's gardens
And learn to spit.
You can wear terrible shirts and grow more fat
And eat three pounds of sausages at a go
Or only bread and pickle for a week
And hoard pens and pencils and beermats and things in boxes.
But now we must have clothes that keep us dry
And pay our rent and not swear in the street
And set a good example for the children.
We must have friends to dinner and read the papers.
But maybe I ought to practise a little now?
So people who know me are not too shocked and surprised
When suddenly I am old, and start to wear purple.
***
***
Not the maker of plans and promises, but rather the one who offers faithful service in small matters. This is the person who is most likely to achieve what is good and lasting. ~Johann Wolfgang von Goethe
***Have a great day!