***
Muslims in Dearborn are saying an Easter Egg hunt is "unconstitutional."
We have got to stop cowering before these people. Here's an idea, honey. Don't go.
***
Comcast buys Democrat party
. Time to look for a more local provider, I guess.
***Apparently
Mozilla customers are not happy
with their appeasing the gays by sacrificing their CEO who happened to have an opinion contrary to the "proper" one. Didn't have anything to do with this job performance, mind you, but the powers that be must cower and bow down to the Left. How's that working out, guys?
If Mozilla was hoping to avoid controversy by edging out former CEO Brendan Eich, the company has most certainly failed. The graph below comes from the feedback page on their site. This chart goes back to when the comment system was adopted, and the highest number of "sad" comments is today, by a factor of about two. The second highest number came yesterday.
Follow the link for more.
***SERIOUSLY?
Grand jury convening for "Bridgegate" and Chris Christie
, and we still have no straight answers regarding Benghazi? WHO CARES about a bridge being closed for a few hours?? Geez, this stuff is enough to make you bang your head against the wall.

A federal grand jury is investigating NJ Governor Chris Christie's involvement in the George Washington Bridge traffic scandal and heard hours of testimony Friday from Christie press secretary Mike Drewniak.
The US Attorney in New Jersey is taking the investigation extremely seriously, and recently increased the number of investigators on the case from three to 10, sources told the Post.
Related:
Christie's White House odds plummet after Bridgegate.
Exactly as planned.
***
***Big get-together today with my family. First cookout of the year! My niece and her family are visiting from Kentucky, so rather than have them drive all over the place to see everyone, we're just getting together in one place! I was hoping to be able to set the cornhole set up, but it has been raining so much it's pretty muddy in our yard. Pretty nice today, so maybe it'll dry out by the time everyone gets here. I've been cleaning like a madwoman for the last three days. Really looking forward to it!
***It's pretty sad when your first reaction to seeing the headline,
"CIA Official Dies in Apparent Suicide,"
is "I wonder if the Obama administration had something to do with that? Maybe he was about to testify." I hate not being able to trust my government, but that's certainly where I am.
***
Neat photo!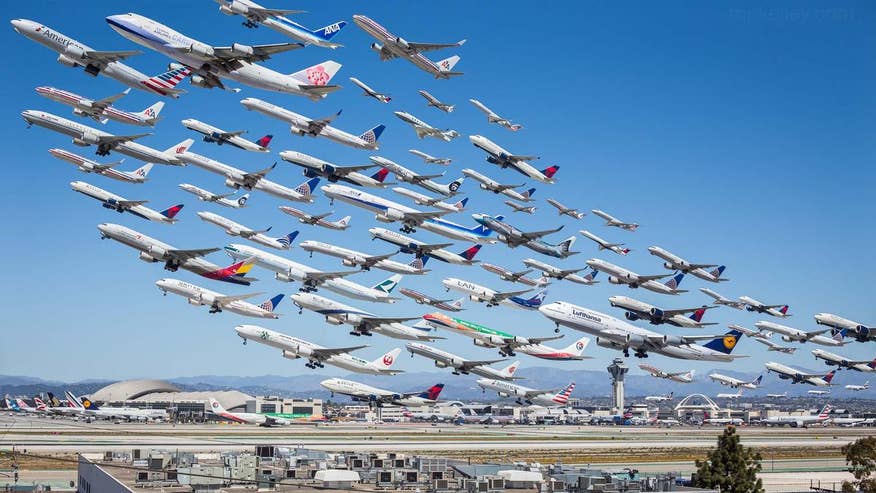 It sounds like a low rumble, about every three to five minutes. Then there's a strong wind. When the gust is over, the rumble begins again and the rush that comes with it.
This is how photographer Michael Kelley describes what it's like to watch airplanes take off for eight straight hours at Los Angeles International Airport (LAX).
On Sunday, after waking up to a particularly sunny and smog-free day, Kelley brought his camera to a park near the airport and captured a photo of almost every plane that took off over the course of the day. He then went home and stitched the images together to create one stunning photograph.
***
***"She turned to the sunlight
And shook her yellow head,
And whispered to her neighbor:
"Winter is dead."
―
A.A. Milne
,
When We Were Very Young
***Have a great day!
If Mozilla was hoping to avoid controversy by edging out former CEO Brendan Eich, the company has most certainly failed. The graph below comes from the feedback page on their site. This chart goes back to when the comment system was adopted, and the highest number of "sad" comments is today, by a factor of about two. The second highest number came yesterday. - See more at: http://www.conservativeintel.com/2014/04/04/mozilla-sets-new-company-online-record-for-customer-dissatisfaction/#sthash.yIuTx9oC.dpuf
If Mozilla was hoping to avoid controversy by edging out former CEO Brendan Eich, the company has most certainly failed. The graph below comes from the feedback page on their site. This chart goes back to when the comment system was adopted, and the highest number of "sad" comments is today, by a factor of about two. The second highest number came yesterday. - See more at: http://www.conservativeintel.com/2014/04/04/mozilla-sets-new-company-online-record-for-customer-dissatisfaction/#sthash.yIuTx9oC.dpuf