***This should be the nail in the coffin of Obama's re-election efforts.
They knew about the security needs in Libya, and ignored them
:
***
Now he's intimidating the press
:
President Obama's campaign has released a transcript of a 30-minute conversation Obama had with the Des Moines Register's editorial board after the editor complained the president's team had "handcuffed" his newspaper's editorial board by insisting it be kept off record.
Obama spoke with editors of the influential Iowa newspaper Tuesday morning, as part of his effort to win the paper's endorsement -- a decision set to be announced this weekend.
But editor Rick Green, in an unusual column published later that day, revealed that the White House had demanded the conversation be kept out of print. Green said Obama's aides did not give a reason for the "unusual condition" of the call.
"It was a 'personal call' to the Register's publisher and editor, we were told," Green wrote. "The specifics of the conversation could not be shared because it was off the record."
***Is this awesome, or what?
***
Hoofbeats of electoral doom?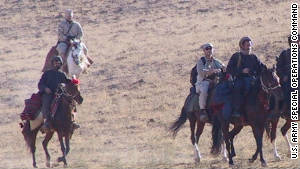 This is a picture of US Special Operations Forces riding horses into Afghanistan in 2001. Contrary to the President's snide comments last night, sometimes horses in fact still play an important role in the military -- and their work in Afghanistan will be commemorated with a
statue being unveiled across from the World Trade Center
site on November 11.
Like so many other supercilious Obama put-downs, the comments about "horses and bayonets" are backfiring on the President. The whole episode reminds me of Ronald Reagan's brilliant assessment: "It's not that our liberal friends are ignorant; it's that they know so much that isn't so."
***Love it...
***EEK!
***
Success isn't a result of spontaneous combustion. You must set yourself on fire. ~Arnold H. Glasow