***Well, the big day is here. We have worked ourselves to a frazzle getting the house and yard ready. Looks nice, though! I'm looking forward to it, I hope a lot of the family can come.
***
"The Empowered Man,"
the newest painting by Jon McNaughton. Click and look at it closely. This is a good one!
***
GOP to sustain repeal push if Obamacare is upheld by the Supreme Court
. Good, we need a Plan B, just in case. I still hold out hope that the smart ones on the Court will outweigh the dimwits like Kagan and Sotomayor. The Court is one of the biggest reasons we absolutely must replace Obama in November. We can't afford to let him pick another Justice, or maybe even two.
***
Ashton Eaton breaks world Decathlon record.
Wow, what a grueling event.
***
"Mugly" wins World's Ugliest Dog contest.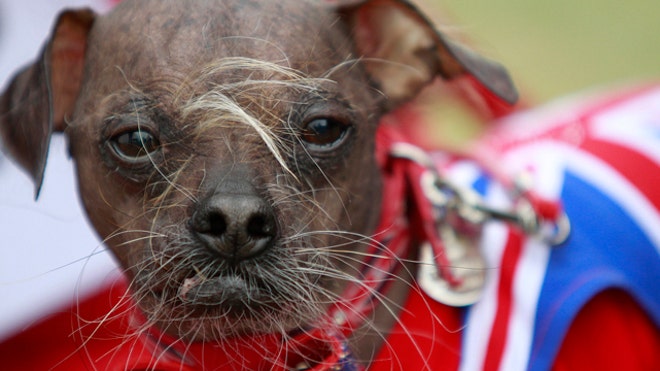 ***
Saying "I Love You" without saying a word.
Of all the little expressions of love — such as a box of chocolates, a hand-written poem or a bouquet of wild flowers — my favorite is a good old-fashioned kiss. Whether it be our customary kiss when we greet each other after a day at work or a surprise smooch in line at the grocery store, I always feel loved when my husband, Les, initiates this simple act of affection.
***
Green "drivel" exposed.
Father of Global Warming recants. Bet you haven't heard much about this in the Obamamedia.
Having observed that global temperatures since the turn of the millennium have not gone up in the way computer-based climate models predicted, Lovelock acknowledged, "the problem is we don't know what the climate is doing. We thought we knew 20 years ago." Now, Lovelock has given a follow-up interview to the UK's Guardian newspaper in which he delivers more bombshells sure to anger the global green movement, which for years worshipped his Gaia theory and apocalyptic predictions that billions would die from man-made climate change by the end of this century.
Lovelock still believes anthropogenic global warming is occurring and that mankind must lower its greenhouse gas emissions, but says it's now clear the doomsday predictions, including his own (and Al Gore's) were incorrect.
He responds to attacks on his revised views by noting that, unlike many climate scientists who fear a loss of government funding if they admit error, as a freelance scientist, he's never been afraid to revise his theories in the face of new evidence. Indeed, that's how science advances.
***
***
George Washington's annotated Constitution fetches $10 million at auction
. Wow. Wouldn't that be something to have?
Printed and bound in 1789, the book features Washington's signature on the title page and sold for a winning bid of $9,826,500 - an amount the venerable auction house said was a world auction record for an American book or historical document.
Part of Washington's original private library at Mount Vernon, the book will once again be housed at the historic Virginia estate, as part of the collection at the Fred W. Smith National Library for the Study of George Washington, currently under construction and set to open next fall.
"Washington himself once wrote, 'the Constitution is our guide, which I will never abandon,' " Mount Vernon Ladies' Association regent Ann Bookout said in a statement. "By acquiring this book - his personal copy of the Constitution - we are taking him quite literally.
***
Look at a day when you are supremely satisfied at the end.
It's not a day when you lounge around doing nothing;
it's when you've had everything to do, and you've done it
Lord Acton
***Have a great day!